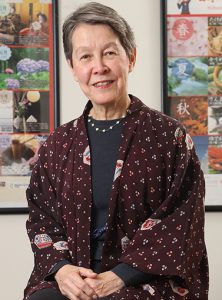 Dr. Roselee Bundy
Dr. Bundy was a scholar of Japanese premodern literature, who gained widespread recognition for her contributions to waka poetry studies. In 2009 Kalamazoo College recognized her outstanding achievement in research and publication with the Florence J. Lucasse Fellowship Award for Excellence in Scholarship, one of highest honors bestowed on a faculty member at K.
Professor Bundy taught Japanese language and East Asian Studies classes at K for nearly thirty years. Bundy-sensei loved to travel and was well-known for her enthusiastic support of study abroad and undergraduate student research. This fund honors her commitment and dedication as a teacher, mentor, colleague, and scholar.
Purpose of the Fund
The Roselee Bundy Student Travel to Asia Fund was established to provide support for project-related travel in Asia, including SIP research, conference participation in Asia, or standalone internships. Because the Fund is for distinct projects, it does NOT provide support for costs associated with K's study abroad programs in East Asia. All students with relevant projects that require travel in or to Asia are encouraged to apply. However, preference will be given to East Asian Studies majors and students with prior coursework related to the region. If you have questions about your project's eligibility, please consult with an East Asian Studies faculty member.
SIP research in Asia
Conference presentations in Asia
Internships in Asia that are not part of study abroad
Travel, living expenses, archive fees, etc., related to distinct research projects in Asia
Study abroad costs (including transportation, tuition, living expenses, etc.)
ICRPs, internships, volunteering, etc., that are part of a study abroad program
Research projects (including SIPs) that do not require travel to Asia
Taking a vacation in Asia
Application
Please download and complete the application. If you have any questions, consult the East Asian Studies faculty.
Deadlines
Submit your completed application as an an email attachment to the East Asian Studies Program Director as soon as possible. If you are applying for support for your SIP project, the application is due no later than 5PM on the Friday of 8th week before you officially begin your SIP: 8th week Spring term for SIPs registered in Fall term, or 8th week Fall Term for SIPs registered in Winter term. For other types of funding requests, applications are due no later than one month prior to your planned departure.